We had a blast working, and working out, with The RefreshinQ Co., helping to create a series of videos for their major brand launch, which would be seen by millions of people.
OBJECTIVES
Help launch The RefreshinQ Co.'s brand with a video that would establish their brand story, as one aimed at everyday athletes
Improve online reach and brand awareness through storytelling
Showcase the their products and brand in a way that would connect with potential users, on various online video platforms.
Produce excitement and intensity around the #NeverQuit movement
REQUIREMENTS
Location scouting and rental
Casting and contracting of on-camera talent
One-day video shoot
Creation of three different versions of the video, a :15 version, a :30 version; and a :60 version
PHASE 1
DISCOVERY AND CONCEPTING
The RefreshinQ Co. was rolling out their brand and products and wanted a set of videos that would show everyday athletes how their products could help with their workouts. Working with one of their agencies, AKHIA, we learned that these videos would be utilized in media buys on Hulu, as well as on YouTube and on their social media channels. Given the length of the pieces and the usage, we knew that the videos had to be attention-grabbing, upbeat and that they would need to stand out from the crowd.
Since our team and AKHIA's team wanted to focus on featuring the type of users who they were targeting in the video, we began by scouting for locations that would be accessible for an everyday athlete. The first challenge was that the shoot would be occurring in less than a week. We needed to find a place that was going to be available on short-notice, and would have diverse areas to use as shooting locations.
We were able to find the perfect match with Rock Mill in Akron, OH. Their facility had separate areas for indoor bouldering, yoga and a gym. Given that the product appealed to everyday athletes, we were also able to work with the facility to utilize members of their gym in the video as our on-camera talent. We did a casting call and, working with AKHIA, selected the best candidates to appear in the video.
Working with storyboards created by AKHIA, we collaborated with their creative team on the different aspects of the video, what types of shots we would want to capture, and how we would approach the shoot day. This put us in a great position going into the shoot.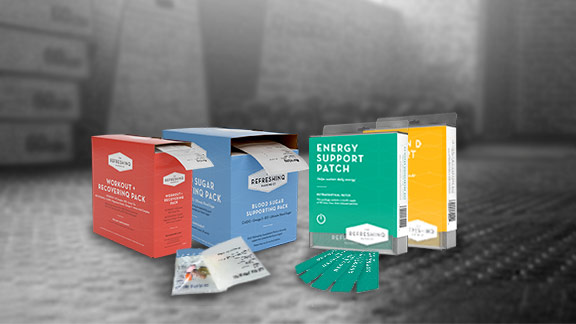 PHASE 2
VIDEO SHOOT
The day of the shoot was fast-paced, and full of creativity and fun. Our three-person crew consisted of a Camera Operator, Director and Assistant. We arrived early in the morning at Rock Mill to set up. We were soon joined by not only the team from AKHIA, but also the client, who wanted to see the shoot first-hand.
Having our client preview system on-hand throughout the day was incredibly valuable, so everyone could see what the shots were looking like in real-time and played back, since they were being shot from very unique locations and vantage points. The client being on-hand was also very valuable, as we were able to hear which shots and movements they liked. This also allowed us to gain insight into how they would like to see certain shots used in the final pieces.
To execute the shoot, we assigned each one of our actors and actresses with a different activity or workout to perform. These included kettle bells, box jumps and rock climbing. We also filmed specialized shots with them utilizing the product, holding signs and saying various lines, both on-camera and off-camera, to ensure that we would have multiple options during the editing stage.
Using our expertise and vast amount of gear, we were able to utilize different lenses for different shots, providing flexibility and a great variety of shot-types. Shooting with contrasting shot-styles would allow us to build the intensity that the client was looking for in the finished piece.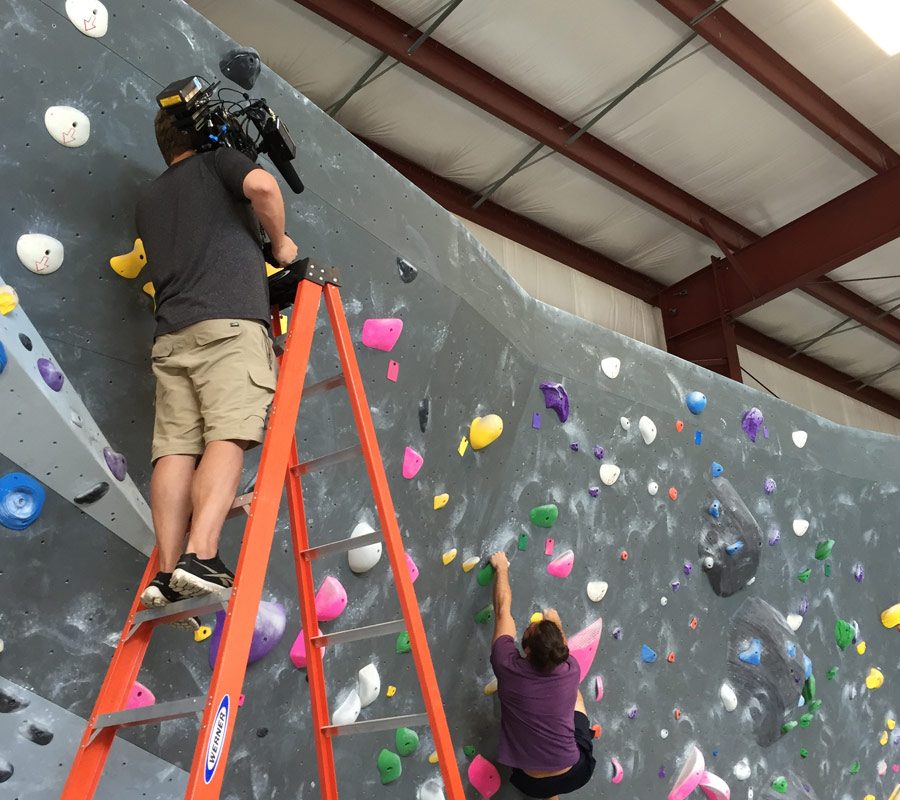 PHASE 3
VIDEO EDITING
The shots that we captured put us in a great place during the editing process. We turned the footage that we shot black and white in After Effects, while also isolating the product in color to really make it stand out and be the focal point on-screen.
Given that the product and packaging were still in development at the time of the shoot, we were also able to utilize After Effects to add certain elements in the editing process that reflected the final branding, so that what was shown in the piece would reflect the exact look of the finished product and packaging.
We were able to flexible throughout the process, ensuring that the videos turned out exactly how the client envisioned. This project involved a very collaborative editing process, which made for a finished set of videos that everyone was thrilled with. We were even able to provide the client with some still images, pulled from the video, since they liked the look of the pieces so much.
RESULTS
The videos were a huge success, and were viewed by millions of people in markets all across America. The campaign ran in the following markets: Cleveland, Denver, Portland, Austin, Orange County, Columbus, San Francisco, Minneapolis, Seattle and Pittsburgh.
Facebook, YouTube and Hulu: 7,233,885 Impressions
YouTube, Hulu Desktop, Hulu TV and Hulu Mobile: 1,038,985 Video Views
These impressive numbers helped kickstart the launch of the brand, and got The RefreshinQ Co. immense exposure to the target audiences that they were looking to reach.