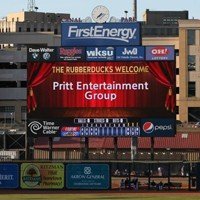 So I attended my first PEG night out on Saturday! I've heard stories of these events ever since I started working here. I've got to say that after experiencing it first hand, it definitely lived up to my expectations. I think we should have one every week! (Note to self: Bring this up to Ryan and Jeff).  The whole PEG gang got together at The Game before heading to the Akron RubberDucks game. Oh by the way, The Game is the name of the restaurant they just added to the stadium, not the actual baseball game. Makes for an interesting conversation when you're trying to meet up with people, as you can imagine.  We filled up on good vibes and conversation before heading up to our very own suite! This was awesome because I've never been in one before. I could definitely get use to it.
I think I can speak for everyone when I say that we had a blast. There's something very cool about getting together with people you work with and admire and just having fun. I feel like it's important to do, and I think it's very awesome for a company to do that for their employees. It shows that they care. We got a picture with Webster (the mascot), ate some good food, saw Mountain Man from Duck Dynasty and had an all-around good time, which at the end of the day was why we're all there and love working together so much.
So on behalf of our whole team, I just want to say, thank you Ryan and Jeff! I'm already looking forward to the next PEG Night Out!