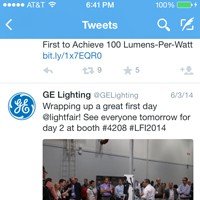 Social media is a huge part of most people's day.  Think of how often you find yourself scrolling through your phone and checking out what's new on Twitter or Facebook. Well, social media isn't just for connecting with friends; it can also effectively be used for connecting with potential customers.
PEG was recently in Las Vegas filming material for a major convention. We spent two whole days creating videos that now live exclusively online. Times definitely are changing and so are consumers. Advertising via billboards and commercials is still effective, but consumers are becoming more proactive when it comes to getting the information they want. They want to research things and gather information on their own. Having videos on your website and material that you can distribute through social media makes it easier for potential contacts to not only find you, but to find out more about you. That way, when they contact you, they already know the questions they want to ask and the purchases they want to make.
There are so many opportunities out there now that weren't there in the past when it comes to the ways we connect with other people. It all comes down to making things easier for your customers and for yourself. Things on social media spread like wild fire so why wouldn't you want information about your business to do the same?