We produced a live Watch Party at the Covelli Centre where 4,500 Youngstown State University fans watched the Penguins take on James Madison in the NCAA FCS Championship Game.
OBJECTIVES
Create a fun and engaging watch party experience inside the Covelli Centre for Youngstown State University fans during the FCS National Championship Game
REQUIREMENTS
Work with university to create a genuine YSU in-game experience
Incorporate all necessary sponsors into the event content
PHASE ONE
The Planning
On January 7, 2017, Youngstown State University was taking on James Madison University in the FCS National Championship Game. The Penguins had made the Championship game in dramatic fashion and the excitement was from fans was very high. But since the game itself was taking place in Frisco, Texas, the City of Youngstown and the Covelli Centre wanted to put together a local event that YSU fans could attend to watch together in a fun, game-like atmosphere.
With only a few days to prepare, our team got right to work planning the event, which included not only logistics like staffing the control room and bringing in an in-arena host, but also creating all the video, animations and graphic content from scratch for this special event. Our team worked with the university to get video assets that were used to make hype pieces that would be used throughout the day, to help create an authentic YSU fan experience.
PHASE TWO
The Event
The day of the event was treated just an in-stadium, game day experience. The Covelli Centre brought in multiple video screens in to make sure every fan had a view of the game, which was shown live from the ESPN2 feed in the arena. During commercial breaks, our team kept the fan engagement high with cams, contests and other high-energy content. The Covelli Centre also had gotten sponsors to help support the event and we were able to incorporate them during several giveaways and other promotional segments throughout the day. It was a non-stop, game-like atmosphere from start to finish.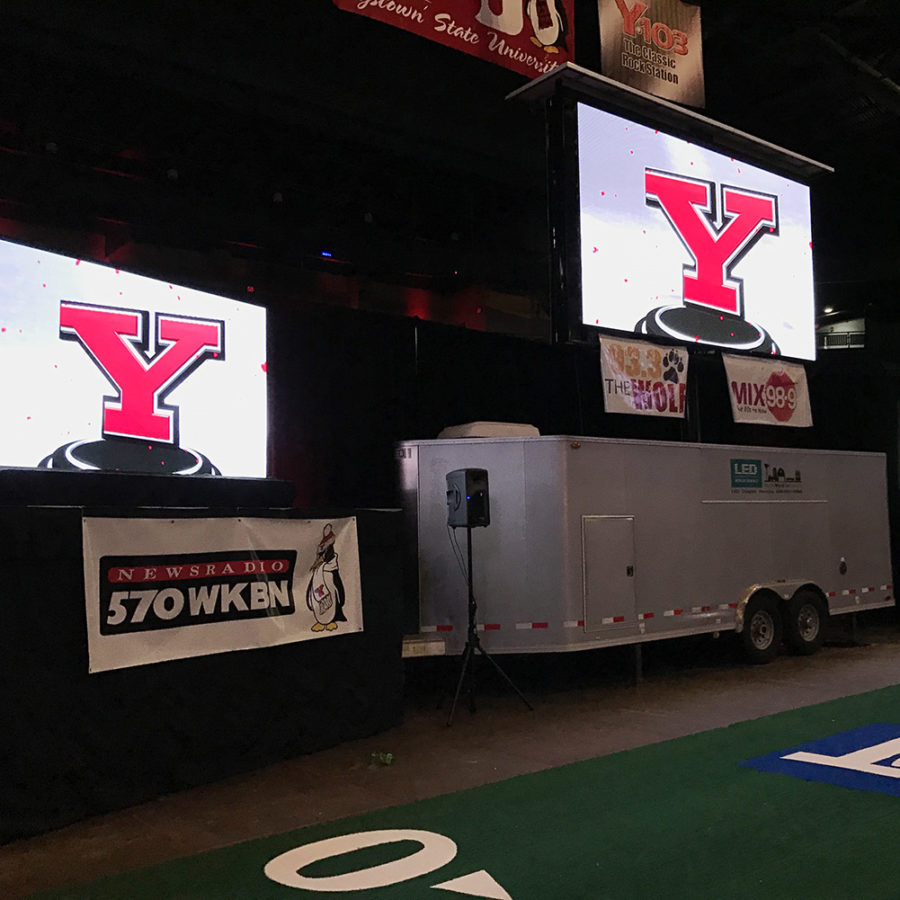 THE RESULTS
The event was met with positive feedback from both YSU and from the over 4,500 fans that were in attendance. "I was very pleased and encouraged to hear nothing but good things about the watch party," said then-YSU Assistant Director of Athletics – Sales and Event Management, John Brown. The crowd was engaged and the whole day was full of energy and excitement. The event execution was smooth and felt like it has been planned weeks or months in advance. One fan told Youngstown's largest daily newspaper, The Vindicator, "We didn't have an opportunity to go to Texas, so this is the next best thing to being there."