On this edition of Gear Up with PEG, Ryan sits down with PEG's resident "Maverick," Andrew Nalette, to talk all about why we love our drone and the in and outs of what it took to become a licensed drone pilot!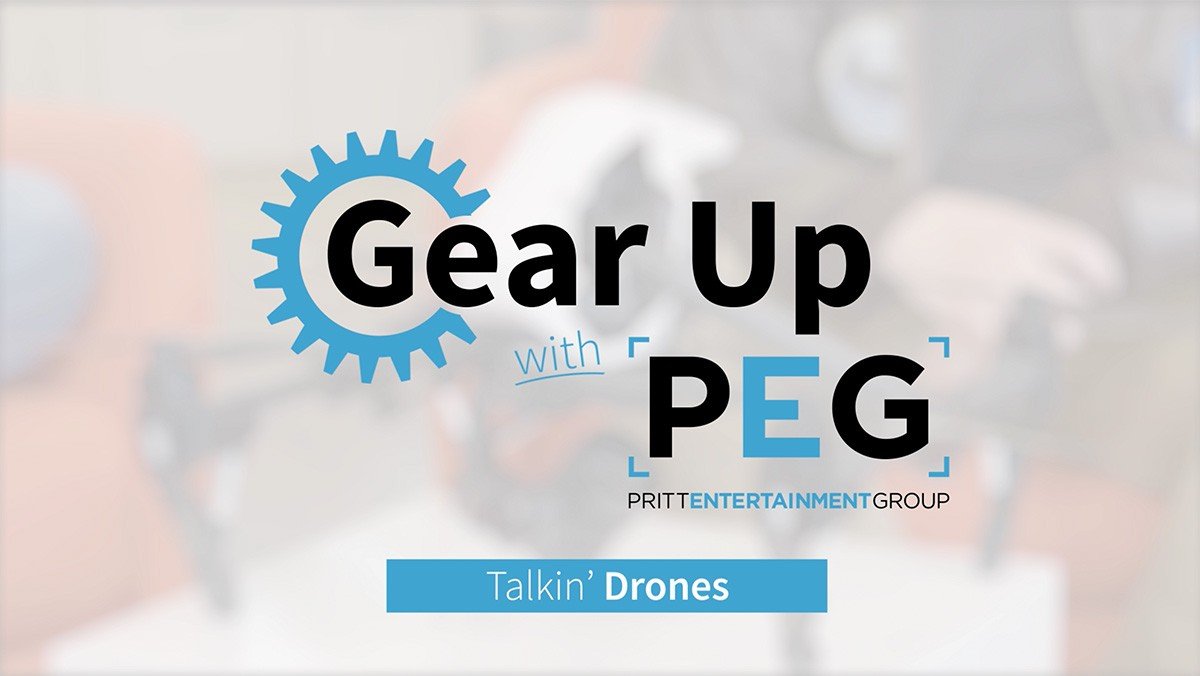 Additional Reading
Gear Up with PEG: DJI OSMO
Gear Up with PEG: RED Scarlet-W
Gear Up with PEG: VR/360 Video Spherical Camera Platform
Video Transcript
Ryan: What's going on everybody. Gear Up with PEG returns. Ryan over here. And a very special guest, Tom Cruise, in the house.
Andrew: Thank you, thank you, I do like to think of myself as the Maverick of PEG, for sure.
Ryan: You also might know him as Andrew. You definitely love him as Andrew and Andrew, in turn, loves this guy right here. Andrew, tell us about our beautiful drone.
Andrew: Yeah. This is our this is our drone here. It's a DJI Inspire 1. It's a part of the top line that DJI makes. DJI, for those familiar with drones, makes a bunch of drones from something more of the consumer market to the, you know, the high-end professional market that you have right here. And it's an incredible, incredible tool that we've had now for a while and we've gotten some amazing footage from this that we would not have been able to get any other way.
Ryan: Yeah, it definitely adds a lot of specialty to the really higher-end, produced pieces I mean I think a couple wraps top of my mind. The "Why not Akron?" video that has gotten a lot of exposure and also the Vegas Golden Knights intro video that we did for the new NHL team this season. We used this in the Vegas shoot to shoot out in a canyon, in the middle of nowhere basically, out in Nevada and then for the "Why not Akron?" video we got some beautiful skyline shots. So, it's obviously versatile. If you're a client and you want drone footage on a shoot – what are the best applications for it?
Andrew: You know, you want a drone, I think, if you really want to show off the space. Whether it's the facility that you're in or, you know, there's… you have something, part of your product or your company that you want to show off a lot of space from a unique angle. Because, you know, this lens here… we've got lenses in our arsenal that we can put on a RED or an fs7 to get as wide but when you're 200 to 400 feet in the air you're see in the world from a completely different lens, if you will.
Ryan: I see what you did there. Now let's talk when, speaking of lenses, and things of the sort let's talk about quality, because I know a lot of people you know they know they can go to a Best Buy, maybe even a Target or jump on Amazon and pick up a drone relatively inexpensively and fly it around in their neighborhood and get some cool family pictures and stuff like that, but for a professional application. This is a whole different animal, right?
Andrew: Absolutely. I think the big thing with what this particular unit is that it can film 4k raw footage and that's a huge thing especially when you're, you're in the aerial film world. And the big reason for that is, you know, if you're, if you have something like a DJI Spark or a Mavic, that are again, that's more the consumer line, you can get some great, great footage from up in the air. But one of the big things is that because this shoots raw you can actually de-haze the footage. So, if you're up on a beautiful day, but it's, it's cloudy and hazy, that's gonna ruin your video shoot. Something like this we're able to, you know, it could be cloudy or hazy we take it into our editor, because since it's 4k raw remove all that haze instantly and there you have gorgeous footage that you would not have been able to get any other way.
Ryan: Yeah, I've definitely seen that firsthand on some of the shoots we've done. I remember one, actually, that was actually out in park out in the canyon and it was a cloudy day and if you saw the footage in the video at the end it looked sunny and beautiful out.
Andrew: Yeah, it's incredible what it's able to do and it's tough because you know you can't picture it when you see it, because it's you haven't removed that haze when you're looking through the lens as it's flying up there but once you take it into editing software and do it, it's incredible, the quality that you are able to get.
Ryan: Yeah. definitely. So, I think one other thing we should talk about here is how you actually go out and do this. So, you know, obviously it's controlled via a remote control type system. How many people do you need? How does that process look like on actual shoot day?
Andrew: Yeah, well typically for our shoots, depending on how complex they are, we'll have somewhere between two to three. We can have additional if it's a very large project. We'll definitely have two always, because we have one person controlling the drone and one person who always has their eyes on the drone and is able to communicate, you know, with the operator. The operator is focused on the shot and focused on the safety of the event, but you actually have someone whose sole job is to always have eyes on the drone and to let the drone operator know if there's any conditions that they see that could be unsafe potentially. As well, when we do the larger events, we'll have a third person who can operate the camera and is a back-up pilot in case something were to happen.
Ryan: Gotcha. Now pre-shoot day, and this is something that's also very, very important, is especially with high-end commercial video, you can't just take these things out and fly him anywhere. There's a lot of prep work that needs done in terms of A, I mean your actual certified drone pilot, and then also I know getting certification and clearances a big deal, too. Can you tell us about that? For sure.
Andrew: So we here at PEG, we have two licensed drone pilots, myself and the goose to my maverick, Josh Kuss. We're both licensed pilots and, you know, the getting the license was a big thing. They had recently changed the drone law and we studied and we passed with flying colors, if I may, but we thought that was gonna be the difficult part, and the actual difficult part is managing all of the flight maps, and where you can fly where you can't fly. Contacting the FAA to let them you know that you want to do a video there and then working it with the tower to schedule everything. We've even had to contact the TSA on multiple occasions to fly sometimes. So, when you're flying these in the commercial world it can get very, very difficult and you take a lot of risks. So, making sure that you have a licensed team who knows the law and knows how to do things legally is a huge thing.
Ryan: Yeah, definitely. I know that's something that matters a lot to us here at PEG is making sure that, not only for our sake, but also the sake of our client, the safety of others, like, making sure everything is done completely legally, completely safe and that's invaluable on these shoots.
Andrew: Absolutely. Yeah, there's, you know, you have an 8-pound camera system here that can be flying 400 feet above the ground. You want to make sure that everyone on your staff and anybody who could be in the area is gonna be safe at all times.
Ryan: Yeah, definitely. It's a, it's a very tricky machine to operate and to do it well, but you guys do a great job of it. It captures some great footage if you want to see some examples of that you can go to our website Pritt Entertainment Group.com. Also, you can check out our social channels. Facebook. Twitter. There's a third one if you want to see
some still pictures. Perhaps a sepia tone, maybe a rise filter.
Andrew: Even if you wanted to see something instantly… maybe like an Instagram.
Ryan: Instagram or telegram. You can ask us for one of those, too. Maybe a singing telegram. Who knows what you'll get. The next wave of social media. check out all those options. Maybe not the telegram thing, but you know you never know. That's how things go. For Andrew, I'm Ryan. This has been Gear Up with PEG. Now, we're gonna fly away. See you guys.