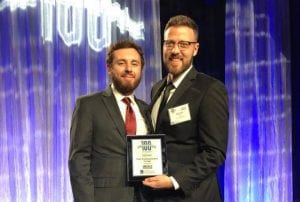 Downtown Akron-based creative agency Pritt Entertainment Group (PEG) was named the second fastest-growing Upstart company in the region at the Weatherhead 100 Awards for the second consecutive year. The Weatherhead 100, presented by the Weatherhead School of Management at Case Western Reserve University, celebrates "Northeast Ohio's spirit of entrepreneurship and recognizes companies that exemplify innovative success in our region." The Upstart category includes companies with up to 15 employees and net sales of up to $5 million in the previous year. PEG has shown sales growth of nearly 550% in the last five years and has continued to add members to their team over that time.
"I am incredibly proud of our team for everything we have accomplished," said President and Co-Founder Ryan Pritt. "We get to do what we love every day and to be recognized for all of the hard work that everyone has put in to help our company grow is a really great honor."
PEG brings brands to life by offering high-end video production, animation, graphic design and branding services for a wide variety of clients locally, and throughout the country. Last year, PEG relocated their headquarters into a fully-renovated, historic 106-year-old building in downtown Akron to accommodate its growing staff and client-base.