Here on PEG Insider, we like to not only talk about industry topics, but also give you a peak at how we work. Over the last couple months, our creative team has been sharing their go-to playlist while they edit.
While I don't edit videos myself, I didn't want to be left out in sharing my favorites! Those who have owned a business know that outside of the fun and exciting parts, there are also plenty of more mundane tasks that go along with the role. And those can sometimes require some serious desk time. I'm not someone who enjoys working in silence, so when I'm doing those more tedious tasks, here is a look at what I listen to.
Music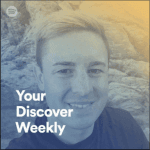 When it comes to music, Discover Weekly on Spotify is my jam. I look forward to the playlist being refreshed with new tunes every Monday. If you aren't familiar with it, it's basically a weekly playlist built off of your listening preferences. Because of this, for me, this playlist can vary a lot throughout the year based on what concerts I've been to recently or what friends I've recently taken long road trips with. At times, it's alternative, country, rock, folk and even some EDM mixed in!
If I were to go to playlists of individual artists, you're probably going to see me primarily listening to a Bleachers album, Andrew McMahon and the Wilderness, Third Eye Blind, Stephen Kellogg, Sherwood or maybe even some Zedd if I'm feeling like I need an energy pick-me-up.
Podcasts
I would be remised if I also didn't include some shoutouts to podcasts that get me through the days, because those are frequently what I land on as well. I'm a news and politics junkie, so every day if I haven't already listened to The Daily, that is a must-listen on my list. In that genre, I also look forward to every Pod Save America and Lovett or Leave It episode.
Obviously, anyone who knows me knows that I also love sports. So, there are plenty of those on my feed as well. The A to Z Podcast, The Bill Simmons Podcast and The Lowe Post are all on the subscription list in that category.
I'm also a sucker for business podcasts. The Creative Agency Podcast is one that I particularly enjoy. It gives some great, candid industry insight from an agency that is similar in size to ours here at PEG. How I Built This is another must-listen for me. I love to hear stories of how other entrepreneurs have succeeded in building their business.
There you have it! Between the music and podcasts above, there's plenty of material to help get me through each week, no matter what mood I'm in. Any recommendations on other great podcasts (or music!) that should be added on my list? If so, I'd love you to comment below. I'm always looking for new additions!
ADDITIONAL READING
My Editing Playlist – Brianna Kelly
My Video Editing Playlist – Jeffrey Pritt
My Video Editing Playlist – Josh Kuss