The question that I am asked most often, other than "where do you want to go for lunch," is "how much does a video cost?" One of those questions is easier to answer than the other. But lunch options and video prices are actually more similar than you may think at first.
Stay with me.
Here in downtown Akron, there is one sandwich shop that stands head-and-shoulders above the rest – The Diamond Deli. If you have never been there before, you really should check it out. I recommend the Rueben. While you're there, you might as well stop by our office, we're right next door. (I promise that there is a tie-in to video prices coming up and that this is not just a shameless plug for our good friends over at The Deli.)
Just as every sandwich on the menu at the Diamond Deli isn't the same price, every two-minute video is usually at a different price point as well. At the deli, there are two variables that are involved in the pricing of a sandwich; the cost of the materials, which is a fixed cost, and the time/expertise that goes into making it, which is variable. For example, a simple grilled cheese will be less expensive than a perfectly prepared medium rare burger with a sunny side up egg and gorgonzola cheese on a Kaiser bun. This is because the materials and time it takes to make the grilled cheese is far less than the burger. (Nothing against the grilled cheese, of course!)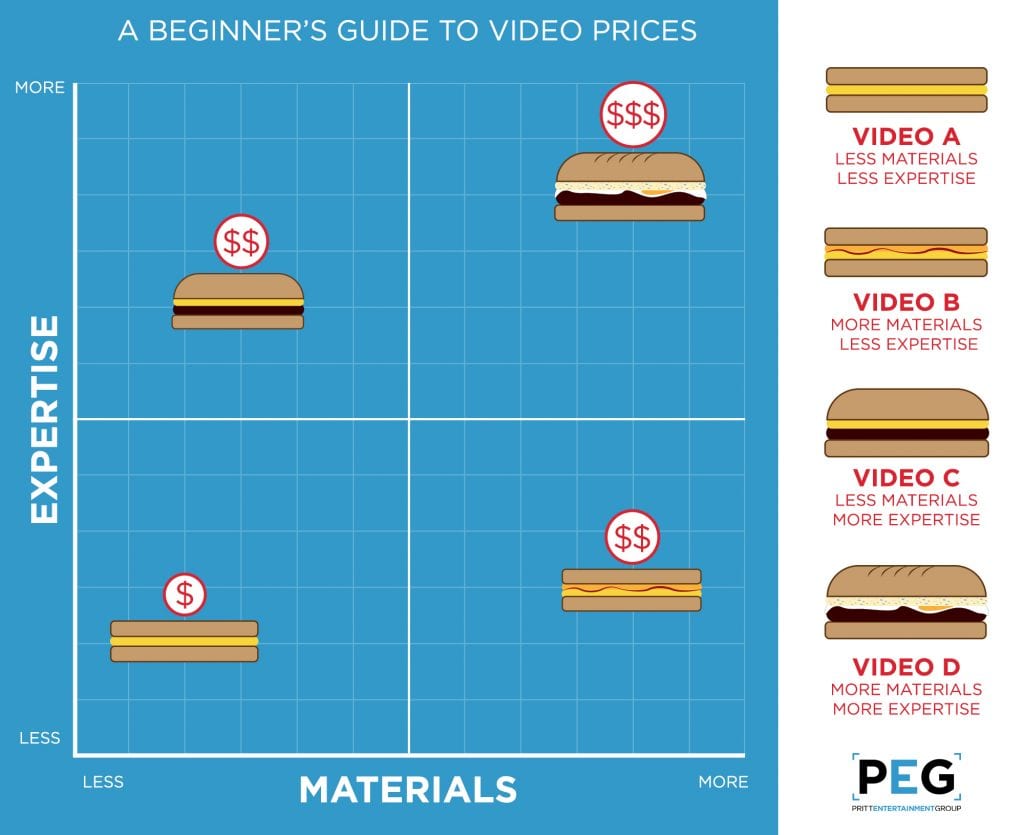 Video production has essentially the same pricing model. There is a fixed cost for the material to make the video through different types of video shoots (one-camera/two-camera shoots, aerial shoots, VR shoots, etc.) and the variable cost for the time/expertise involved in creating it. That being said, a two-minute video that is comprised of interview footage from a one camera shoot will be less expensive than a two-minute video created with footage from a two-camera shoot and drone footage with advanced graphics or animations added in post-production.
Like every sandwich, every video is unique. Not better or worse, just made up of different ingredients put together in different ways. That is why it is so important to work with our clients in the early stages of the video production process. That way we can best understand their goals and tastes before creating their next sandwich…I mean video.
Additional Reading:
What to Ask When Starting Your Next Video Project
What Type of Video Do You Need?