Field trips have become a fun part of our culture this year here at PEG. And while summer has been pretty busy, we still like to make time for some time out of the office as a team. In July, we had not one, but two different outings. We have some team members here to give you a front row seat to the action.
RubberDucks Day Game at Canal Park – July 26
By: Brianna Kelly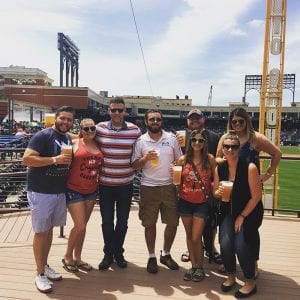 Nothing says summertime quite like a baseball game. And when you are lucky enough to work a block away from a stadium like Canal Park in downtown Akron, you have to take advantage of it. The Akron RubberDucks only have a few day games during the week this year, so that's where we went for our field trip this month.
Field trips are a chance to have a drink, enjoy each other's company and soak up some sun. Day games at Canal Park, however, mean we also get to be soaked via their Splash Day activities. While some of us managed to escape to water, a few decided to run through with the groups of kid campers that were the day's main attendees. Watching them all run around certainly provided additional entertainment beyond the usual baseball game excitement.
In the end, the RubberDucks lost to the Binghamton Mets 3-2. But it's never at bad day our with the team at Canal Park.
WWE Live Summerslam Heatwave Tour – July 30
By: Andrew Nalette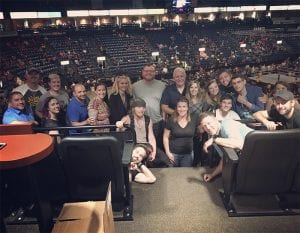 The PEG crew had a night out to remember in Youngstown, Ohio at the WWE Live SummerSlam Heatwave Tour. As a diehard wrestling fan myself, I spent the night cheering on my favorite WWE Superstars and explaining to the wrestling novices in the group why on earth Big Cass took out his ex-best friend, Enzo Amore, with his signature "Running Big Boot". I am the primary WWE aficionado at the PEG office and I take pleasure in explaining the unique storylines to my coworkers, why a WWE Superstar wins a match and why some WWE Superstars are being cheered and others are being booed.
As the night went on, members of our staff became captivated by high-flying moves, false finishes and booming crowd reactions. The night ended with the face of WWE tackling his nemesis through a table, causing all the wide-eyed children in the Covelli Centre to scream with joy. Everyone loved it! We sat around and talked about the matches, the live show production itself and even classic WWE brawls of the 80s and 90s. Once we realized that we were the last fans in the arena, we exited the Covelli Centre and saw all the fans lined outside hoping to get a glimpse of the their favorite WWE Superstars.
It was fantastic twist for us to spend a night as fans in an arena where most our team has worked countless events for 5+ years.
ICYMI: Read more about Ryan Pritt's philosophy on why we started field trips here.