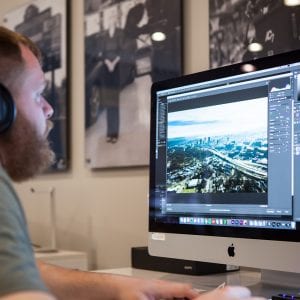 Here at PEG, we have plenty of tools that we use to get our jobs done. They aren't all just nice cameras or accessories though. We also have an arsenal of programs we all use on a day-to-day basis to get our projects from start to finish. For every step of our process there are corresponding programs and applications we use to power through those processes in a quick and efficient way.
Part of what I do at PEG is to learn new software or applications from top to bottom, to better help our team integrate new tools into our process. In this post, I'll tell you about some of the newer applications that we've started using, and some of the tools we have been using for a while now.
Asana:
The most important thing we can do to keep a project rolling is to follow our process, and be as organized as possible. Two applications we use to make sure everyone is on the same page are Asana and Slack. Asana is an amazing web application we use to build out to-do lists for our projects and assign each task and due date to our team members. It's very cool to see all of the pieces of a huge puzzle get put in place one by one. As a team member completes a task, the next task in line becomes active until a project is complete. The beauty of Asana is having every single step laid out in detail, with notes and the ability to assign even the smallest pieces to the person who is best suited to knock them out.
Slack:
We use Slack alongside of Asana to make sure everyone is on the same page at any given moment in the life of a project. Slack is used by our team to communicate effectively and share project details in an organized manner. These two together are great for keeping us all organized and on track. My personal favorite part about both? Being able to post adorable puppy GIFs to my co-workers.
Adobe Creative Cloud:
We have used Adobe's editing suite for as long as I can remember. Even before PEG existed, I remember Jeffrey Pritt teaching me the basics of After Effects. In 2013, Adobe released the Adobe Creative Cloud, something very similar to what Microsoft has done with their Office programs. This allows us access to every single program Adobe offers. We primarily use Premiere Pro, After Effects, Photoshop, Bridge, Media Encoder, InDesign, Illustrator, and Audition. These programs are key to us producing amazing content.
From video pieces to banner ads, these programs are crucial to our success. You might say that these programs are our tools as editors, and that an editor, like a craftsman, is only as good as their tools. Adobe's Creative Cloud is, to me, the most powerful editing suite available. So it feels good as an editor to have access to their amazing tools.
Frame.io:
Frame.io is a web application that we use to send our clients videos to get their feedback or approval. Do you remember when YouTube added the functionality of linking a specific timecode in comments? Someone took this idea and ran with it to create a video review application for video production companies like us. For every frame of a video we send out, our clients can leave specific notes and feedback. Frame.io organizes these revisions and lays them out on a timeline for us to use to make sure each and every edit our clients make gets done.
This is great because it makes the revision process very simple for our us, and our clients. Previously, if a client had edits on a video, they would need to type out the timecode in an email and then tell us what they'd like to change, or they would just try to describe the part in the video they wanted revised. Now they can just click to wherever they want to leave feedback and leave a note specific at that timecode.
For instance, let's say that I accidently added a clip of an adorable puppy into a video at the 1:00 mark of a video. While I might think this is an acceptable mistake, our clients can go to the 1:00 mark and say "Man, that is an adorable puppy, but we aren't sure it fits into our brand. can you remove it?" We receive their feedback instantly, and now we know how they feel about puppies in their videos and can plan accordingly.
I could write quite a bit more about some of the other amazing tools that we use, even down to the simplest programs. We just use so many! We all even have personal applications we use to improve our own workflows, or even just get some inspiration.
The tools that you use are very important as an editor or producer. If you are looking to begin down this path, choose your tools wisely, and master them. The internet is an amazing place, and you can learn about any of these programs by just researching them, watching tutorials and getting in as much practice as you can. Once you're comfortable using your tools, then you can really focus on creating a masterpiece.