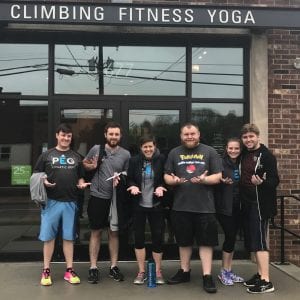 When you think back to being a child, what were some of your favorite days at school? If you were like me, often times, those were the days of field trips. The opportunities to get out of the classroom and break away from a desk was always a good thing and helped to recharge the batteries.
At PEG, we're always trying to think of ways to enhance our company culture and promote team-building activities. That's why this year we started a new initiative, called PEG Field Trips. One afternoon each month, we create an out-of-office activity for our team members so that they can better get to know their fellow teammates and break up the days of sitting at desks and looking at computers.
So far this year, we've rented out a movie theater to watch a movie, went rock climbing and went to a zoo. We've made an effort to find fun, engaging locations that are in the Akron-area. This also helps introduce our team members to places they may not have been before, or even known existed. We hope this will strengthen their attachment to the Akron-area, and show them some of the reasons why we think it's a great place to live, work and play.
The feedback from our team members so far has been nothing but positive. Time-wise, it's only a few hours each month out of the office, but the benefits in terms of moral and company culture have been well worth it. Our team members work incredibly hard and often are working in different groups, on many different projects, so these activities are good ways to get everyone together for one afternoon.
Rolling the PEG Field Trips out this year has been a great experience, and is something that we're excited to continue to do, and see how the different out-of-office experiences benefit our team in the months to come.