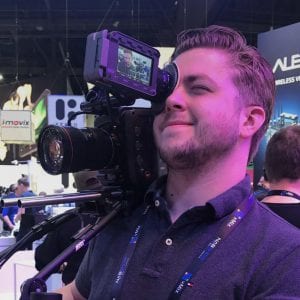 As the guy who spends at least a week reading about all the new gear and software announced, released, and demoed at NAB, I felt like a kid in the world's biggest, and most expensive, candy store when I stepped foot on NAB floor last month. I was immediately overwhelmed by the sheer size of the event. NAB completely took over the Las Vegas Convention Center; filling four exhibit halls, one hundred meeting rooms and taking over thousands of square feet of exterior space with live gear demos.
It became very clear to me that even with three full days of walking around the exhibit floors, we would not have enough time to visit every single booth. Those three days did give us enough to visit countless booths featuring companies that we are very familiar with and companies that we have never heard about before. We saw hundreds of cameras, lenses, drones, camera stabilizers, VR rigs and editing software from the biggest names in video.
If you love video cameras, which I really do, then NAB is for you. Companies like ARRI, Sony, Canon, Panasonic, Blackmagic Design and DJI have huge displays where you can test countless camera and lens configurations. These companies create mini sets with live actors and then surround the sets with their wide variety of cameras. This concept was easily the most mind-blowing thing that I saw at NAB. These companies build out studio cameras, cinema cameras, ENG cameras, and remote cameras and just let everyone play around with them for as long as they want. As someone who is familiar with shooting on Sony, Canon, and Blackmagic cameras, it was truly a unique experience testing out cameras made by ARRI, Panasonic, and new cameras from Sony, Canon, and Blackmagic. When I was at the Sony booth I talked to one of their reps about their new Sony Alpha a9 Mirrorless Digital Camera and 30 seconds after meeting him he handed me this unreleased camera and let me play with it for 20 minutes.
Now when it comes to cinema cameras, everyone I work with knows that I am a little biased when it comes to my favorite camera. I love the look of the ARRI ALEXA 65 and so does Hollywood. Thor: Ragnarok, Rogue One, and The Revenant were all filmed with the ALEXA 65. This is not a camera that you can buy, you can only rent it, and if you are filming something with a budget less than $10 million, this camera isn't even an option. So, when I saw that ARRI had an ALEXA 65 at their booth, my heart skipped a beat. They had it set up with an ARRI Master Anamorphic lens, no professional lighting, and they had it looking out towards the show floor but the image it was producing easily the most beautiful shot I had ever seen in-person.
I expected to see a lot of VR cameras and rigs at NAB, but I did not expect that half of an entire convention hall would be dedicated to 360 video. We were introduced to at least 20 relatively new companies that specialize in 360 cameras, rigs, software, projection technology, and adapting cinema camera gear into the 360 world. In terms of 360 video, the COOLEST thing I saw was a company called Igloo Vision (pun very much intended). Igloo Vision designs 360 projection domes that can accommodate groups of people ranging from 5-500. As someone who doesn't love the solitary feeling of a VR headset, and will always prefer watching a movie in a theater instead of a smartphone, this is the best way I have seen 360 video displayed so far.
Another company that really moved me was Mooovr (puns are great). Moovr created a 360 rig using 6 mirrorless cameras with their custom built 7.5mm fisheye lens. The unique thing about Moovr is that their focus is using VR cameras to capture live events like sporting events or concerts. They had two unreleased rigs at their booth, the Zabara Jib and their skycam, the Spider. Both rigs utilize 360 video in a way that I had not seen up until then.
I could have easily spent another two days walking the show floor. I could also write another several paragraphs about the Adobe, Maxon, Atomos, DJI, and Blackmagic booths, but instead I will talk about our last day which was dedicated to taking classes. I took a class from a portrait photographer about lighting interviews, a Cinema 4D class about how lighting and materials work with each other and a class from one of the leading experts in all things UAVs. By themselves, each class completely validated the trip out to Vegas for NAB, and combined they gave me an invaluable set of skills to that I can immediately implement in the field.
NAB 2017 was an amazing experience that strongly impacted my knowledge of our industry. It was remarkable to see firsthand how fast our industry is changing and growing. There are so many fascinating people, from companies big and small, who are creating unbelievable things that will forever change the world of video production. So much of what we saw hasn't even been released yet, so as a company, it allows us to prepare ourselves and prepare our clients for what will be the next big thing. As an artist though, NAB is an inspiring display of thousands of fellow artists coming together to see what we can create when we work together.