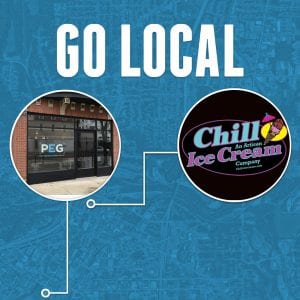 Chill Ice Cream is an artisan ice cream company run by three brothers from Northeast Ohio with a passion for making gourmet ice cream. The new downtown Akron location is the second in the franchise, the first being in Medina.
With 32 flavors currently on the Akron menu, all made in house, two of which are vegan (a rarity in itself), Chill has options for a variety of palettes. From fun flavors for adults like their Bourbon Eggnog, Raspberry Sage for our vegan friends (me!), and more traditional flavors kids are sure to love like Chocolate Milk and Cookies, an ice cream connoisseur will not be disappointed. Some of their funky flavors go with the current season(s). For example, they still have fall flavors like Pumpkin Roll, Pumpkin Pecan, and Pumpkin Cheesecake, while also carrying winter flavors like Cinnamon Apple Butterscotch, Candy Cane Forest and the aforementioned Bourbon Eggnog.
Chill is also dedicated to using local, fresh ingredients, including fruits, nuts, cheese and dairy from Ohio farms. Stop in Tuesday through Sunday to get your tasty Chill fix. Check their website for varying hours and flavors here: www.chill-icecream.com. I can't wait to get myself some of that Raspberry Sage!