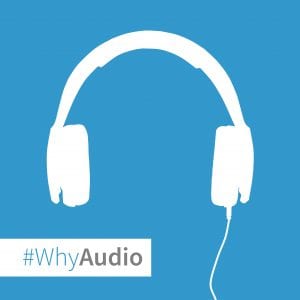 Ever turn the radio off because none of the stations you wanted to listen to were coming in perfectly? Even the faintest sound muddying audio can be distracting or obtrusive to our ears, making us tune off or turn off, altogether.
This doesn't only apply to radio, or audio by itself, but it especially applies to videos featuring bad or mediocre audio. While often overlooked, it's argued that audio plays an even bigger role in audience captivation while watching videos. If the audio is clear, at the right volume, and free of distractions, even if the video component is pixelated, grainy, or out of focus, viewers will stay tuned. However, if the audio isn't strong, even if the visuals are perfect and captivating, viewers will lose interest at faster rates and react negatively toward the video as a whole. Plus, audio can be used to create effect, not only naturally as a narration, but as an emotion evoker. If the audio is off, the feel of the entire video will also be off.
At PEG, we not only believe in the power of visuals, but we also understand the vital importance of audio and the role it has in creating a successful video. Our team specializes in delivering clean and balanced audio, and they're always at the forefront of the next best piece of equipment to use, and how to use it. It's important to take the time to make sure your audio is clean and at the right volume to begin with. In addition, including special effects and ambient sounds in post production can really take a video to the next level. Having a professional team controlling the audio in pre and post productions can ensure a higher success rate for your video.