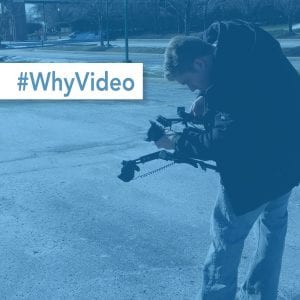 Think about the last time you watched a short video on a company's website. Did you feel more connected to the company? More willing to trust and support them or buy their products? Were you relieved to watch two minutes of visually stimulating material vs read 10 minutes of text?
Videos are becoming increasingly important for marketing a brand. They're a sure-fire way of influencing and targeting an audience. If your website has video, it's 50% more likely to appear on the first page of search engine results. It's a no brainer really.
Most of us have experienced the power of visuals. Visuals are processed 60,000 times faster than text. In this fast-paced, ever-changing world, visuals are preferred over text, and they're a great way to catch people's attention. Visual content, especially video, means higher engagement which gives marketers a higher return on investment rate. It's proven that it causes consumers to stay approximately two minutes longer on your website and makes them more likely to be influenced.
If a video is present, studies have found that consumers are 64% more likely to purchase a product or service. It also develops a personal connection with buyers. Videos serve quick and painless information while maintaining interest through visuals such as animation and featuring the people behind the company puts a face to a name. Relatable, right? They have the power to create an emotional response.
If you're a company with something to sell, stimulating visuals help buyers feel more confident with their purchase. Demo videos are also highly valuable. Research indicates that 80% of consumers say a video showing how a product or service works is important when learning about the company. Videos help consumers have a clearer understanding of the company and their work. For both the consumer and the company, videos are powerful components in efficiency, stimulation, and connection.
Sources:
http://www.adweek.com/socialtimes/video-is-increasingly-important-in-content-marketing-infographic/646321
http://www.cbo.me/blog/the-importance-of-video-in-digital-marketing
http://boast.io/13-stats-that-prove-the-power-of-video-marketing/SC