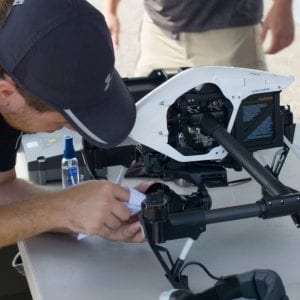 Drone cinematography is one of the most exciting additions to the world of video production in recent memory. This technology has given videographers access to footage that could only be captured by commissioning a helicopter in the past, providing endless creative possibilities.
After two of our production team members gained their pilot's licenses, we've been excited to go on multiple drone shoots and demos, capturing footage from the air that gives those gorgeous sweeping shots of facilities, land, and spaces around the region. Why is this so exciting?
Until recently, in order to fly a drone for commercial purposes you would have to file for an exemption through the FAA, an extremely cumbersome and expensive process. This included logging in-air hours at a flight academy and obtaining a sports pilots license. This is the same license required to fly a single prop plane or hot air balloon (yes, commanding a hot air balloon and flying a drone have more in common than one would think).
This has all changed with the passage of new legislation this summer titled Part 107. In this legislation, the FAA created drone specific testing to become a licensed drone pilot which is now the requirement for commercial drone flight. The process of becoming licensed isn't like getting your driver's license; it takes hours of studying flight/weather maps, flight procedure/protocol, and federal aviation law. After passing a two-hour test at an accredited flight school, you become a licensed drone pilot with the ability to fly commercially.
With the loosening of drone regulations, the FAA has made it much easier for smaller video production agencies to compete with larger firms by leveling the playing field in aerial videography. This will lead to more engaging videos which is better for the viewer and industry as a whole.