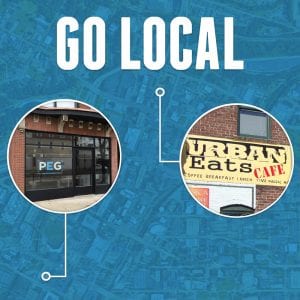 This little gem of a place is one of our favorites. We jump at the chance to meet someone at Urban Eats and feast on the food or drink the coffee. In fact, we asked them to host a little private party a bit ago. We ate so well and had a blast. The unassuming cafe and coffee shop has a cool twist – the chef is also an artist and creates the coolest Pop Art on plywood that is hanging all around the place.
Our favorite drinks or eats? They change their menu often but here are some of our teams' staple favorites or some of our favorite food memories.
Amanda – Caprese-nini and the popcorn.
Ryan – Taco pie – its like a taco pizza. Love it every time.
Jeffrey – They once had a mac & cheese burrito with chicken and maybe some buffalo sauce. It was so good!
Josh – I'm going with the Taco Pie too. Amazing.
Andrew – BBQ Pulled Pork Panini.
Sarah – Their fancy popcorn is one of my favorite things as well as any of the gelato – no matter how cold it is outside.
Kevin – The coffee is great! And their popcorn!
Go eat local!
See more of our Go Local series in these other posts.