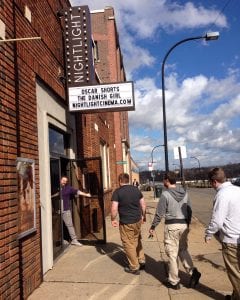 The Nightlight Cinema is a gem in downtown Akron. If you're talking film and not just plain old movies, The Nightlight is the place to be. It is a nonprofit that strives to advance the art of film making and community, two things that we love here at PEG!
Earlier this year, we filmed some shorts explaining some awards at the Oscars with Kurtiss Hare, the Executive Director of The Nightlight, and Andrew Nalette, PEG's own film buff. You can see those here. We love this little place; but don't let size fool you. The Nightlight packs a punch. They serve cocktails, wine, and beer and they serve up some great films with the occasional discussion so that we don't become merely consumers.
You can check The Nightlight out here and see upcoming shows, times, and get tickets. They are also currently raising money to add some seating to the theater. Go Local in downtown Akron and check out The Nightlight… and call us,we'll go with you!