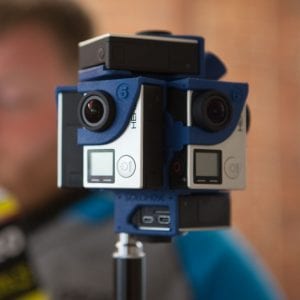 VR* video is one of the hottest new trends in video right now. How does it work? Our set up uses seven GoPros on a 3D printed mount that positions each camera facing a different direction. It's like an awesome little camera sphere. Choosing the mounting position for a shoot is extremely important. When the seven different recordings come together in our specialized software program, there are stitch lines wherever the cameras' views meet. Depending on our mounting position, these lines can either be extremely noticeable or well hidden. That's why finding a good position for the camera rig is so important.
Once we've captured our shots, we go to work, organizing the footage from each camera and getting it ready to be stitched together. This involves synchronizing, color-correcting, and stitching the footage together. After all of that is done, we can create animations and still-graphics for you to see as you turn around the world inside the video.
The process of truly learning how to use this incredible new technology takes months of research, learning and testing, but the end result is absolutely worth it. Many people we talk to about VR/360° video have never actually seen one in person and it's so cool to see their eyes light up when they realize they are able to look around and change the perspective of the video themselves.
We pride ourselves on being on the cutting-edge of the latest industry trends, and this one is one of the most revolutionary developments to hit video in recent memory. Keep checking our social media accounts and website for more VR video info as we share some examples of this incredible new technology.
*While the term "VR" is what the industry has generally adopted to cover all forms of this new technology, there actually are some differences between 360° video and true VR.
360° Videos: In a 360° video, everything is displayed in a 360×180 degree field of view. You can change your perspective at will, turning the video around or up and down but what you see is limited to what the filmmaker (us!) wants you to see. You cannot actually walk around the space you are seeing, nor can you interact with objects in the video, because it's just that…video.
Virtual Reality: True VR, or virtual reality, is not a video at all; it is a world modeled by a team of people. In most cases it is entirely digital, meaning the creator didn't just go film the environment. The user is actually able to move throughout the space and interact with objects in the environment.
So, while both immersive experiences, true VR is still in its very early stages but, with the right experience and gear, 360° is knocking on the doorstep and is here right now! Those incredible "VR" videos that you are now seeing on Facebook and YouTube are actually 360° videos but they're still great examples of the next revolution in the video world, one that we're excited to be at the front of here at PEG.