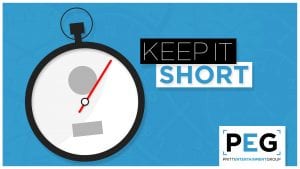 When giving advice on public speaking Franklin Roosevelt quipped "Be sincere, be brief, be seated". In a world where there is so much content fighting for everyone's attention, it is more important than ever to be able to cut through the clutter and make your point quickly.
Equally as important is the sincerity in which your point is made. The most effective videos, speeches, articles, stir action in the consumer because they have truly connected with the piece. This can only be done if the viewer/reader believes that the originator of the content is being truthful and their attention is kept until the point is made.
If you keep Roosevelt's framework in mind as you create your own content the result will be a more focused and effective piece. I'll be seated now.