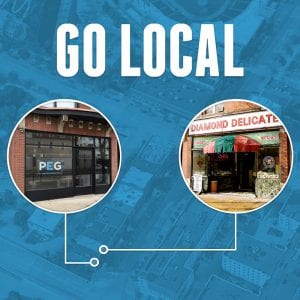 When you're talking sandwiches, you should be talking: The Diamond Deli. These guys are our spirit animals. The causal, traditional, and unassuming deli atmosphere doesn't leave you wondering what their specialty is: killer sandwiches and soups. They do these things and they do them well. What more can you ask? The Diamond Deli has been around for over 40 years but the current wonderfulness started in 1997.
Our team has to hold back from eating every meal at The Diamond Deli and they are right next-door! We were thinking of a window between our buildings with a conveyor belt…
A few notes before you go:
Be ready with your order if you are near the counter. You never know when one of them will look over the counter and ask you what you want and the pressure will be on!
Be ready for a line if you go between 11:30 and 1. It goes fast but you'll have to wait for that fantastic food.
PEG Team favorites:
Amanda – The grilled cheese deluxe with either a side of broccoli cheese or chicken tortellini soup.
Jeffrey – Cuban. Regular toasted, crisped. Buttered with fine cutlery.
Josh – Josh's "I Made The Dean's List" with a side of Macaroni and Cheese w/Scallops.
Ryan – The J-Dub.
Sarah – Grilled Cheese. Add egg. On ciabatta bread.
Andrew – Cori's "No Meat Nonsense" … with pepperoni.