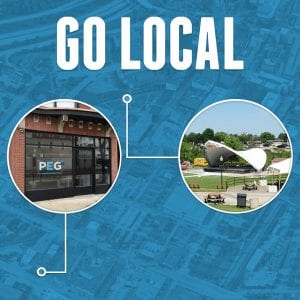 The next in our Go Local series, just in time for nice weather, is Lock 3 and Lock 4. These are two fantastic parks just down the street from our office. They are a combination of spaces that make for a very unique part of our city. Lock 3 and 4 are old Canal locks that have been converted to public space.
Lock 4 is a low-key urban jungle with water rushing over multiple levels and large steps/seats, ramps, and tables for eating and playing. The old brick facades and muraled boarded-up windows give a distinct West Side Story movie set feel that we just love. Sweet blues and jazz shows and events are hosted here, food trucks, corn hole tournaments, and Third Thursday evenings. But it doesn't end there.
Just next-door, Lock 3 hosts live shows, a fresh farmers market, and an ice skating rink (plus a luge) in the winter. Lock 3 is larger and more open than Lock 4 and hosts an ampitheater in the warmer weather. And the Ohio and Erie Canal Towpath runs right through it all. So fun! We love our town.