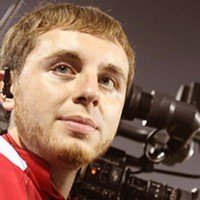 We asked Jeffrey to contribute to this edition of "PEG: In A Word." Jeffrey, co-founder and creative director at PEG, says that the one word to describe his work is always changing. Ok, so that's not one word but hey, Jeffrey is on the creative team so we'll give him a little leeway.
"My job tends to change daily/weekly, as every project has different requirements. Some weeks I oversee the creative team's work and some weeks I'm the primary camera operator on a major video shoot. Geographically, things change too. Sometimes I'm on the ground in Ohio for months in a row, and then I'll be traveling all over the country for projects and shoots. Our software changes regularly and our gear constantly grows, so I have to keep up with the latest and greatest changes to our technical capacities."
Variety has been a constant and positive theme in our "PEG: In A Word" series. Its something we love and thrive on and can't wait to see what comes in next.