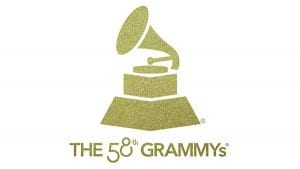 Last night was the 58th annual Grammy awards. I am a HUGE music fan. After watching the Grammys last night, I turned off the TV feeling a little torn. At the core, the music and performances were on point and the talent of these artists really had an opportunity to shine. But the horrible sound issues and reoccurring technical issues made it hard to focus on anything but what was going wrong.
Let's get the bad things out of the way. First, the pre-show was just generally weak. I have to bring up Shad Moss (aka Bow Wow) and his horribly awkward toss to start the show. Shad basically tried to toss to the opening of the show while mingling in the crowd of superstars already in their seats. Realizing the camera was still shooting him, he joked around saying, "It's just live TV!" And this happened three times in a row. So awkward! Why didn't he have an IFB? Not a good way to start off the show at all. Also, almost every commercial break transition soundtrack was "Can't Feel My Face" by The Weekend. Now don't get me wrong; I love this song. But after hearing it over and over, it got stale FAST. With so many artists there to accept awards and perform, that's the only song they could think of to play? Anyway…moving on.
Second, most of the artists sang slow beautiful ballads. Little Big Town performed their hit song "Girl Crush" accompanied by an orchestra. The Weekend performed his hit "In the Night" with only a piano and a cellist. While their individual performances were strong, I think these choices contributed to the lack of energy and flow of the show.
Finally: the atrocious sound problems! This is unacceptable and it honestly blows my mind. This awards show is about the music. You could even argue the performances have become even more important than the actual awards the artists are there to receive. I feel so bad for Adele. Her triumphant return was ruined by a microphone that had fallen into the piano. She powered through it though, because she is an amazing musical angel. Some people were blaming Bieber, saying the noise was caused by his guitar as he was waiting to go on after Adele. Nope. Don't blame the Biebs! He suffered from audio issues himself during his performance of "Love Yourself" and "Where Are U Now" that he performed with Jack U, Diplo, and Skrillex. Constantly pointing to his in-ear monitor and blatantly missing cues, Beiber was just one of many artists plagued by sound issues.
Ok. Now let's talk about what went right! First of all, LL Cool J could host the Grammys for the rest of his life and I'd be totally ok with that. This was his fifth year as host and he killed it. Like he always does. Secondly, I was a huge fan of cutting away to the Richard Rodgers Theatre for the live performance of the Broadway hit "Hamilton." The camera work which had to be specifically timed to the music and choreography was flawless. Lin Manuel Miranda gave the best acceptance speech of the night after winning Best Musical Theatre Album. Everything about that segment was perfection.
Thirdly, let's talk about the performances that made this show worth watching! Lady Gaga's tribute to David Bowie was spot on. No one could have done it better, in my opinion. Gaga took us on a crazy ride through Bowies biggest hits accompanied by an awesome mechanical keyboard that danced along with her on stage while she played. Bowie would've loved it.
Finally, let's talk about what EVERYONE is talking about today. Kendrick Lamar stole the show. This was by far my favorite performance of the night. Actually, this was probably my favorite Grammy performance ever. I know that's a big statement. I mean it. Kendrick performed "The Blacker The Berry" followed by his hit "Alright." The visuals and the intense lighting combined with choreography and music really showed Kendrick's passion and his message. If you haven't seen this insane moment that will go down in Grammy history, you need to check it out and get up to speed.
Overall, I enjoyed the Grammys. Nothing brings people together the way that music does. I'm excited to see what next year brings and how the Grammys celebrate the artists and music we're sure to fall in love with in 2016!
Play on! – Amanda