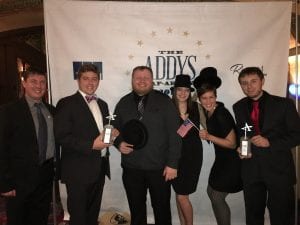 PEG went on a team outing on Friday night to the gorgeous Akron Civic Theatre to the American Advertising Federation Awards. In our industry, these are fondly called The Addy Awards. This was my first time to the Addy's and I was curious to see the other companies nominated and the pieces that survived the judges' picking. The night was full of enthusiasm and very cool designs. As the categories were announced, I was anxious to get to our category: Elements of Advertising. We were up for awards in Film Cinematography and Animation/Special Effects.
Each winning video played as production teams took the stage to accept the awards. Finally, we arrived at Elements of Advertising. Our awards came one after the next. This meant our videos played back to back. Our first video, First Night Akron, tells the story of one night, the first night of the year, among the Akron community. The video shows families and friends gathering around music and games in the cold of December 31st to ring in the new year together. A local musical group who played that evening provided the audio track. Everything about this video needed to be made up of that community and show the fun, vibrant people that make up that place. It had to do all of this and yet exude the highest quality of video.
Our second video to win was animated piece for the Cleveland Indians called Cleveland Indians "We're Underway." While both videos had a lot of energy, this second video was so different. This video had to connect to a broad audience. The high energy of this video had to excite people to come to Indians games and show the pride of Tribe fans. The video had to be fast, clean, pumped, and be super strong on brand.
It was so exciting to see these two videos back to back. While they were for such different brands and audiences, they both really knocked it out of the park. They showed the skill with which PEG can bring each and every brand to life, no matter the scale or personality. I was so proud to be part of this team!