Marketing in 2016: Be Authentic 
---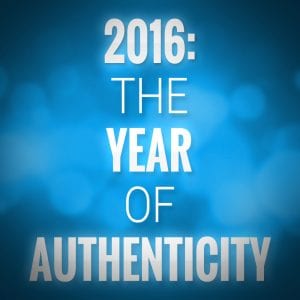 Earlier this week, I had the opportunity to sit down with a few of my friends over at AKHIA for a video series that they put on, called One Question, One Answer.
The question that our group answered was about what we thought marketers' new year's resolutions should be in 2016. You can view the video and hear what everyone had to say here. My answer was that this should be the year that marketers strive to focus on authenticity, and so I wanted to share some of the reasons why I feel like that is so important in 2016.
In today's world, more information than ever is readily available at everyone's fingertips. Whether you're a consumer or a business, needing a product or a service, a simple online search will obviously yield tens and probably hundreds of potential solutions. Once you get on a prospect's radar, you have a very limited time to capture their attention and show why you are the business that they want to work with or why your product is different than anyone else's.
So, what story do you have to tell? Is it that you have a team of industry leaders that can't be beat? Is it that the quality of your product is leaps and bounds above that of your competition? Or is it that you have unique processes and ways that you do business? Whatever that story is, it's important to tell that story in a relatable, authentic way so that viewers and potential clients know who you are and what you stand for and produce as a company.
By this time, everybody has a website and most have social media accounts. But more than ever, it's your content that will make you stand out. Your story can be told in a variety of ways, including videos, photos and other forms of compelling online content. Having these custom pieces showcased front and center will set you apart from your competition far more than stock assets and generic copy ever can.
Keep creating!
-Ryan