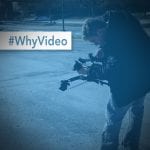 As we ease our way into 2016, the blogosphere is riddled with backwards looks and future predictions about marketing and business. Video is a constant theme this January, even more than ever before. On Twitter (@PrittEntGroup) last week, we posted a blog entry and a number of facts and stats on #WhyVideo. It is fascinating to see how quickly this form of marketing is growing and attracting businesses and consumers alike. Here are the facts in a quick list for your learning pleasure:
A one minute video is worth 1.8 million words. – Dr. James McQuivey of Forrester Research.
100 million Internet users watch online video each day. – comScore
 197.5 million Americans watched online videos just in November 2015. – comScore
80% of internet users remember watching a video ad on a website within the last 30 days. – Online Publishers Association
90% of online shoppers said they find video helpful in making buying decisions. – comScore
75% of executives watch work-related videos on business websites at least once a week. – Forbes
65% of executives visit a marketer's website after viewing a video. – Forbes
46% of the 80% who remember a video ad took some form of action. – Online Publishers Association
Website visitors are 64% more likely to buy a product after watching a video. – comScore
92% of mobile video viewers share videos with others. – Invodo
59% of senior executives perfer to watch a video instead of reading. – Forbes Insight
Homepage videos are shown to increase conversion rates by 20% or more. – ReelSEO
40% of people respond better to visual info than plain text. – Zabisco
Including video in email marketing reduced subscriber opt-outs by 75%. – Eloqua
You have about 10 seconds to grab the attention with your video. – Visible Measures
Only 24% of brands are using online video to market to consumers. -Kantar Media
Seize the opportunity!