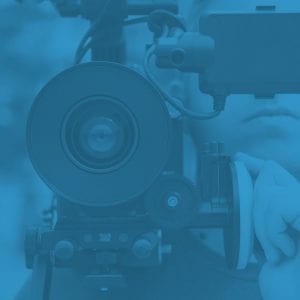 Videos are one of the highest rated interactions on the web these days. And it's no wonder, really. We all spend so much time with a screen that it's nice to have something a little more human, a little more engaging … like a video. We are working our way toward quite a video-rich world according to Cisco:
"Globally, consumer internet video traffic will be 80 percent of all consumer Internet traffic in 2019, up from 64 percent in 2014. This percentage does not include video exchange through peer-to-peer (P2P) file sharing. The sum of all forms of video (tv, video on demand [VoD], Internet, and P2P) will be in the range of 80 to 90 percent of global consumer traffic by 2019."
PEG is proud to be on the forefront of this engaging medium and we want to help you maximize your place on this playing field. Starting a video production project, especially if it is your first one, can be daunting. It is unwise to jump into a production without some thought. And that's what PEG is here for. We've created a list of 10 easy questions to help you begin with your best foot forward. We can help you through these but take a look.
---
10 Questions To Start A Video
What is the purpose and objective of the video project? In a perfect world, what would be the results of people viewing this video? What do you hope to gain out of the video and what do you hope others will gain?
What is the subject matter? Think about what your video will be about. How would someone outside of your company describe what it's about?
Who is the target audience? Who will watch this video? What exactly do they need or what are they interested in and how can you cater your subject to the target audience?
What are the core messages that you want to convey? After deciding on a subject focus for your video production, it's important to hone in on what messages you want to communicate about that subject.
What is the tone of the video? Is it serious, funny, etc.? This is a great way to take a video from good to great. When you can decide on a tone and follow that throughout the video, your audience is more likely to resonate with the message and leave the video with a coherent understanding of your message.
Will this video be footage-based or animation-based? This means you are deciding between live-footage and on-screen animations. Animations do not necessarily mean cartoons or Disney style characters. This can also mean on-screen graphics and moving images, words, and captions.
Does this video require a shoot? If so, where/what are you looking to capture? If you answered question #6 with "footage-based," then you are in need of a video shoot! Think about what you want to capture and how it fits your subject, audience, and core message.
Do you have examples of any similar videos that you like?  Coming up with a list of videos that accomplish something similar to your goals is a great way to hone in on the style and content you want.
When is your deadline? What is the timeline for this project? When do you want it posted/shared? Compare that to how long various iterations may take. A quick turnaround may require different decisions and requirements than a video production planned well in advance.
Is there an estimated budget range for this project? Money is a big question for any project, obviously, but hopefully not the determining factor. There are a variety solutions and choices for most video production projects and budgets.