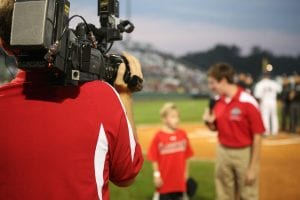 When we approach any live event production, our hope is not only for the event to run smoothly from start to finish. Our hope is for that event to really capture the audience's attention and leave them with a positive, lasting impression of your organization. There are several ingredients that we believe are fundamental to the formula for creating an unforgettable live event. Whether it is a sporting event, or a corporate fundraising gala, any event—big or small—must successfully weave together these components from the first day of preparation to the event day production.
Clear Objective
You must have a defined objective—and that stems from your purpose. Why are you organizing the live event? Is it to compel donors to support your cause? Is it to give thousands of fans an exciting and fun game day experience? Your objective should guide every aspect of your event.
Opportunities for Interaction
At a successful live event, the audience will not simply be observing, but they will be participating. Depending on the event, you will want plenty of opportunities for interaction. For example, at a sporting event such as a hockey or baseball game, fans can engage with and respond to exciting and inspiring in-game scoreboard graphics, animations, videos and promotions.
Energized Atmosphere
One of the challenges of a live event is creating an energized atmosphere that fits within the overall brand of the organization. When executed well, many elements of the event, from graphic design to video creation to day-of audio, will work together to create a unique, engaging atmosphere during the event.
Seamless Event-Day Organization
On event day, there are many elements to organize—from running graphics on screens or scoreboards to coordinating graphics and music and managing any talent or speakers. The event production team should be highly capable of balancing many moving pieces and parts.
Our team has the expertise and the passion to help you realize your vision and produce a truly unforgettable live event. Give us a call today to discuss how we can work together.