PEG announces new offices in downtown Akron! 
---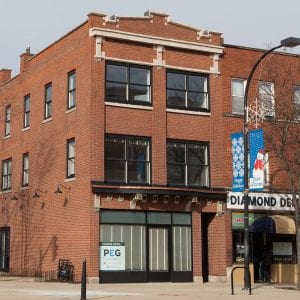 August 2013. That's when we moved our PEG offices to downtown Akron. Since the day we moved in, we've been busy, creating new, exciting pieces for clients not only here in northeast Ohio, but also across the state, and the entire country.
While our team has travelled for video shoots in 14 different states and produced events that have aired to international audiences, our roots are planted locally here in Akron. Our team has tripled in size in the two and half years since we moved downtown and the scale of projects that we work on has grown with it.
With that growth, came the need for a new, larger space for our company to call home. Fortunately, while our roots are spreading, they don't have to spread far. In fact, all we have to do to move into our new home is walk across the street. (Assuming we can make it past the delicious Diamond Deli.)
This winter, we're proud to announce that PEG will be relocating to the historic Burkhardt Block Building at 380 South Main St. in downtown Akron. As both a lover of Akron and historic buildings, the opportunity to restore and revive a storied building like this one is a challenge, but also an honor.
Our new home is actually quite old. 104 years to be exact. It's even listed on the National Register of Historic places, a prestigious designation issued by the U.S. Department of the Interior. When it was built in 1911, you could buy a fully equipped Ford Model-T for $780 and use it to drive to the nearest movie theater, where a ticket would cost only seven cents.
Through the years, this building was home to everything from a café and restaurant on the main level, to offices, a hotel and apartments on the upper floors. All three floors will soon be home to our growing PEG team. We're excited to not only embrace the history of the building, but also create a modern, fun space that will inspire our team on a daily basis, and create pride in the place that we call home.
Over the next couple months, we'll continue to share updates with you as we turn this beautiful, historic building into Akron's newest hub of creativity, and prove that what's old really can be new again.
Keep creating!
-Ryan