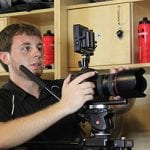 Video is one of the most compelling storytelling tools that we have to communicate with and deliver key messages to our audiences. If you are considering working with a video production company to create and produce a video, you may have concerns about whether your vision will be lost in the process. We make sure that is never the case: When we begin a new video project with you, we take the time to discuss and understand your vision and your goals for the project—that's because your vision is at the core of our work. We will develop the concepts that will bring it to life.
Here are just a few ways that your vision will guide our video shoot:
Honing your message: In our discussions, we will help you hone your key messages for the video. This includes having a thorough conversation about your business or organization and what you want to accomplish through the video. Your input is essential to defining an effective message for your target audience that is consistent with your brand's voice and tone.
Determining video elements: There may be certain aspects of your organization or product that you want to showcase, or certain individuals you want to be interviewed or profiled. Once we know which elements are most important to you, we will work to determine the best ways of incorporating them into your video.
Selecting the right gear for your project: As we talk with you about the footage and shots you would like to incorporate, we will determine the technology we need to create your desired final project. For example, if you'd like to incorporate a dramatic interview, we'll bring a cinema-style camera, which is able to capture beautiful images when combined with the perfect lighting. If your vision includes sweeping camera moves, we will bring any number of our motion control systems to nail the perfect shot. We always have the most up-to-date video technology, lighting and audio equipment on hand to deliver the highest quality final product.
Let our team help bring your vision to life through effective and engaging video production. Give us a call today to get started!