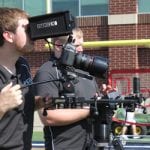 No matter what business you are in, one of the central goals of your brand's communications strategy is likely to better reach and engage your target audience. That audience might be your current employees, job candidates, prospective customers, or possible donors. One of the most effective ways of engaging and making a lasting impression on you target audience is through video, which of course, is our specialty at PEG.
Videos are among the most highly shared posts on social media. YouTube now has more than one billion users and has become the world's most-used search engine after Google. Still, you might be questioning whether video is the right tool for your brand. Consider some of the many advantages and uses of high-quality, professional corporate video:
Strengthen your brand reputation
Evoke pride in your brand among employees and stakeholders
Offer a personalized look at your company to prospective new hires
Enhance sales training
Showcase a new product or service
Unveil a new initiative or campaign
A successful corporate video campaign will communicate your key message while staying true to your brand, all while being engaging and entertaining. Creating a successful campaign seems like a lofty task, but can be achieved if you incorporate these key elements:
Start with a deep understanding of your purpose. Just like everything you do, your video must be tied to your overarching business goals and core values. We will start by discussing corporate video concepts that will work best for your organization. What are you trying to accomplish through this video? Is there a desired feeling in your brand or about your culture that you want to achieve? It is important to begin any video project with clearly defined intentions. It makes every step of the process easier, from developing an impactful script, to shooting footage or animating content in a style that most-effectively tells your story.
Be consistent with your company's overall branding. From use of color and logos to tone and personality, your video should be aligned with your brand. From the moment your video starts until the moment it ends, your video should feel like it's messaging is coming straight from you.
Know your brand's edge. What sets you apart? What makes your brand different from competitors? Why should the viewer care? An advantage of video is the opportunity to give your audience a firsthand look at your company's unique culture and personality.
If you are ready to learn how you can reach your target audiences through corporate video, contact our team today. Our experienced and award-winning video production team is the authority on corporate video and offers graphic design, branding, and event production services to make your company stand out.