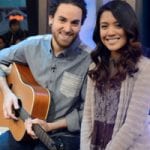 Social media is crazy. We rely on it for everything now. It's how we know when one of our Facebook friends got engaged or how we know when celebrities break up on Twitter. And it's how we get record deals….? Well, for some people…
If you're, Us The Duo, a musical couple from L.A., you're giving thanks to the social media powers that be. I first found these guys on Vine. I'm sure you've heard of it. If not, it's a social media platform that allows you to upload six-second videos. Yeah, that's it. Six seconds. BUT, if you're smart and talented enough you can really make those seconds count. That's what Us The Dou has done.
I found them on the Popular Now page and I immediately fell in love with their six-second covers of hit songs like "Baby" and "Drunk In Love". After becoming obsessed, I found a video on YouTube of them at their wedding. Instead of just saying their vows to one another, they sang them in a song they wrote called, "No Matter Where You Are". The video and song are fantastic, not to mention unbelievably cute. (Future husband be warned. We are doing this.)
Apparently the 800,000 people and I who watched it weren't the only ones who were impressed. Shortly after the video was uploaded on May 6th, Us The Duo was signed by Republic Records. This is a prime example of how social media can change your life over night! There are so many talented people putting their music and art out into the world on a much larger platform than was available 10 years ago. It just goes to show that if you're creative enough and you know how to utilize the resources you have, you can reach a lot of people and create a lot of opportunities for yourself, all thanks to social media. So I have to ask, what have you uploaded lately?