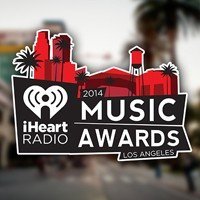 The first ever iHeartRadio Music Awards took place last Thursday and they were awesome! Like I've said before on this blog, I am a HUGE music fan. After watching basically every music awards show for the past 10 years, I can honestly say that this was one of my favorites by far.  They had the basic formula of an award show that we're all use to seeing. Celebrity award presenters, over the top performances, crazy outfits, and tons of witty banter. But the iHeartRadio Music Awards managed to add another ingredient. Sincerity.
The City of Angels
The show was held in L.A. at the Shrine Auditorium. Every awards show has to be held somewhere, but this is the first time that the actual location became it's own character in the show. From beginning to end the show had stories sprinkled in from Kanye West,  Rota Ora, The Black Keys, John Legend, Demi Lovato,  Steven Tyler and many more. All of them told stories about Los Angeles. Some told stories about their first time coming to the city. Others told stories about playing their first show or having their first celebrity sighting on the street. It was cool to hear these huge celebrities talk about the times when they were nobodies. All of them shared the same love for L.A. that gave them life, heartache, memories and stardom. I loved it. The videos were very well done and the way they were placed throughout the show really broke up the monotony of: performance, award, performance, award. My favorite part of the night though, was when 30 Seconds To Mars performed their song, "City Of Angels". I got emotional! The whole song is tied in with stars and street performers talking about what L.A. means to them.  It was beautiful. If you haven't seen it, I would really recommend checking out on YouTube. You won't regret it.
The Fans
Another thing I thought was cool was the focus on the fans. There was an award for Best Fan Army that was awarded to Rihanna and her Navy.  And on top of that, almost every acceptance speech was directed to the fans with sincere appreciation for all the support that they give the stars.  As a fan myself, I thought it was really nice. Fans get overlooked and a lot of ways. When you think about, the die hard fans are the only reason shows like these exist! Fans buy the albums. Fans watch the music videos. Fans attend the concerts. Fans support the artists. And last but not least, fans vote for the winners. It's about time they got their own award.
Pharrell!
Giving out an Icon or Innovator award isn't new to music award shows, but I just have to talk about Pharrell Williams. I have a newfound respect for him. I saw a clip of him crying during an interview with Oprah, when she showed him a video of people all over the world dancing to his hit "Happy", and he was completely grateful and humbled when he received his Innovator award.  It was proceeded with a montage of stars like Beyoncé, John Legend, and Gwen Stefanie talking about how cool and what a musical genius Pharrell is.  I love how after years of being in the spotlight, he's still so down to earth and grateful for all of his success.
The Radio
Since this was an iHeartRadio event, the awards show was broadcast to all of the iHeart stations.  This was perfect for me because even though I wasn't able to watch it live (thank goodness for DVR) I was still able to listen to it live in the car.  In the words of Rihanna, radio couldn't survive without music and vice versa. I think it's interesting that when it comes time for music award shows, radio gets left out of the equation when that's the way most of us experience music. Well thanks to iHeart Radio, that's not the case anymore.
Overall, I thought the iHeartRadio Music Awards were fantastic and I'm really looking forward to next year's. I'd like to see them hold it in a different city and have as much appreciation for that location as they did this year.  I think we need a little more heart and honesty in these kind of shows and iHeart Radio really knocked it out of the park.