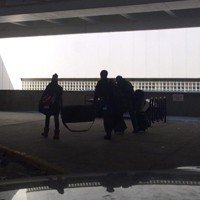 So A LOT has happened since my last blog entry. For one thing, I went from having only ever flown on an airplane once, to considering myself pretty worldly. PEG has been on the road, and while I've mastered the art of navigating airports and packing everything I need into a tiny carry-on, I've also learned that there are a lot of things to consider when doing a video or photo shoot out-of-state that you wouldn't usually consider.
Last month we were in Columbus, North Carolina, Texas, Arkansas and Toledo. Yep, all in one month. We flew to all of these places with the exception of two. One of the things you take for granted that you really have to pay attention to when flying is the weight of your gear bags. We had to be really picky about what we chose to take, and what we decided we could do without.  Just to give you an idea, we got our camera bag, which usually weighs 70 pounds, down to just below 50.  Our arms were thankful, but if we took anything out of the bag before we flew we had to pay close attention and make sure everything was put back in the same spot. Otherwise all of the weight would get thrown off again, which can make a big difference to the airlines.
Another thing that I learned is to always expect the unexpected. Anything can happen when you're traveling. Let's say that you experience a flight delay or cancelation. Well, if you have a shoot scheduled, you need to find a different way there. If you're lucky you can make an alternate flight, but your gear might not. So you should ALWAYS have a Plan B. As long as you keep a level head everything will turn out fine, even if things didn't go the way you planned.
The third thing I learned when shooting out of state is how to improvise! While we were shooting in Arkansas we were about halfway done and everything was going great. Then, we had an idea for a shot that would look amazing, but there was one problem. We needed a dolly to get it. Since we couldn't bring a dolly on the plane we had to get creative. We were filming in a Wal-Mart and after looking around and testing a bunch of different ones, we ended up using a shopping cart to get the shot we needed. Looking back at the footage it turned out great. Looking back on the strange looks that I got from the Walmart staff as I tested out the carts…well that's just amusing.
I love traveling and seeing new places, and I love shooting projects on-location. You definitely have to think on your toes and be ready for whatever happens. But, when it's all said and done, you have an awesome video to show for all the hard work. I'm looking forward to seeing what we capture on our next out-of-state shoot, this week in San Francisco, and the adventures that will go along with it.