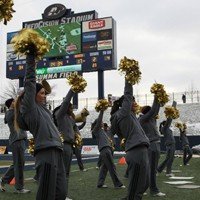 Wow… The college football regular season is officially complete. I know that it seems to fly by every year, but this year it felt like it did even more than normal. Now that it's over, I've been feeling a bit retrospective and thought I'd take a look back.
As a company, we just finished up our fourth season of producing the video board show for the University of Akron and this year was definitely the most fun yet. I graduated from UA in 2008, am a die-hard Zips fan, so while we take the same pride in everything we do, Akron is our "home school" per say in the college sports world. Heck, you could walk from our office to InfoCision Stadium, where the Zips play their home games.
We started working with UA before the season even started, shooting and producing their intro video that would run at the games. This shoot was an absolute blast. If you missed my post about it from earlier in the season, click here to take a look. We even put together a fancy behind-the-scenes video to show you how shoot day went.
Over the course of the season, our team not only creates all of the videos and graphics that run at the games, but also on gamedays we put on the show from up in the control room and make sure everything looks good and goes off without a hitch. I personally have produced every game for the past four seasons and absolutely love doing it. #ZipsGamedays (that's what we call them here in Akron) are truly some of my favorite days of the year. To see our team at work during a game, check out this photo album from one of the games on our Facebook page.
As for the games themselves, it was a great season to be a part of. The Zips have been fighting for a few years to turn things around and this year you could see the corner being turned which was so exciting to see. They went 3-3 at home, including a win over their rival, Kent State, and also an upset win over Toledo to end the season on a high note.
For that last game, we put together a video thanking the fans for their support all year long, and also showing off some of our favorite memories from the 2013 home season. So without further adieu, here's a look back at some of the most fun moments from our productions this year…
Want to know how we can help take your production to the next level?  Feel free to email us at any time using the Contact section on this site!